Login
Log in if you have an account
Register
Having an account with us will allow you to check out faster in the future, store multiple addresses, view and track your orders in your account, and more.
Create an account
Eurobike 2023
02 Aug 2023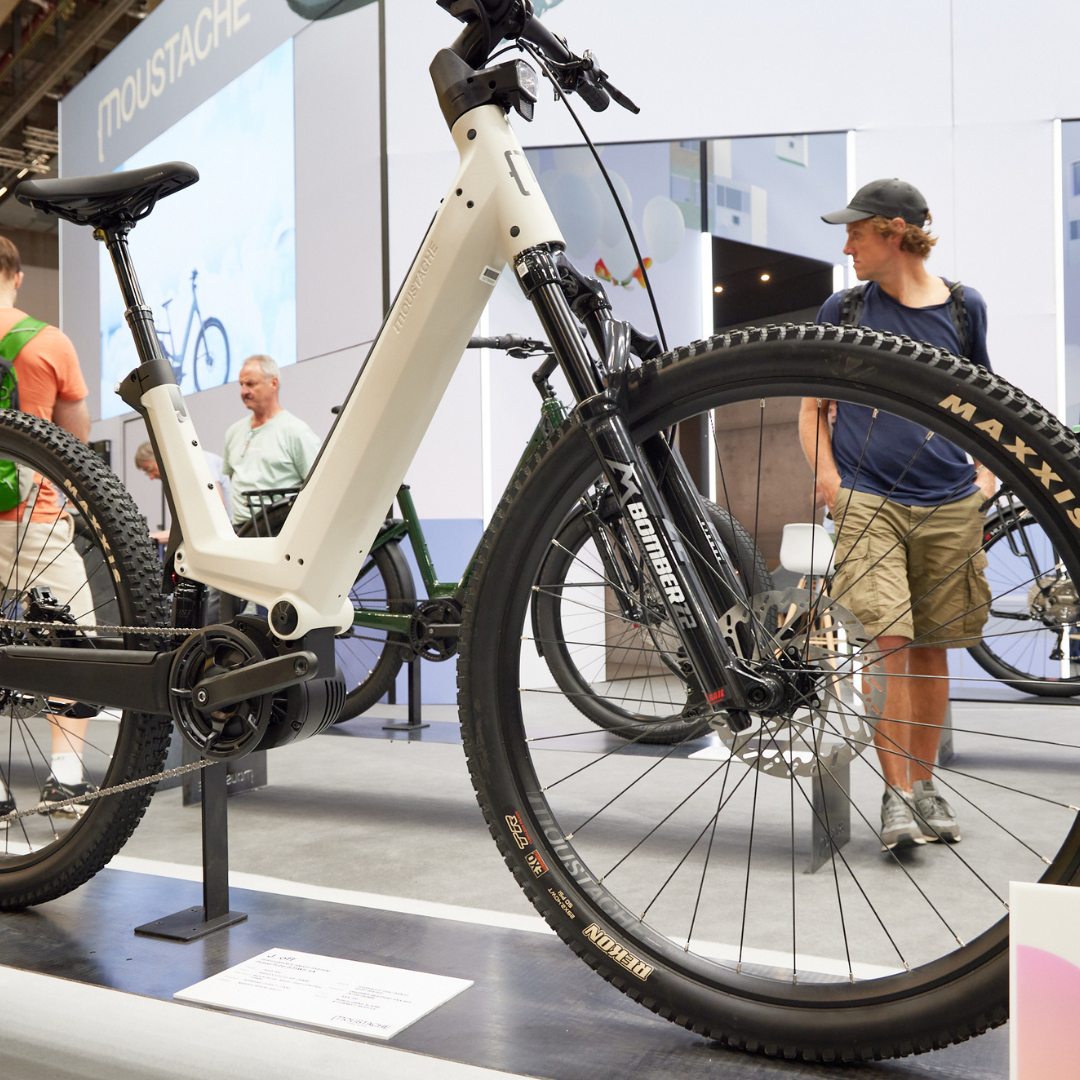 Chloé, who is part of the Cycle Néron management team recently travelled to Europe to attend this year's edition of the popular Eurobike. For the occasion, she tells us about her experience as well as the new trends to watch for that are emerging in the cycling world!
Eurobike is one of the biggest international exhibitions dedicated to the cycling industry and I've had the privilege to attend again this year. This event takes place each year in Frankfurt, Germany, and brings together the leaders of the industry, ranging from manufacturers, distributors, retailers, specialized journalists or cycling enthusiasts. Eurobike offers a unique platform to present the latest trends, innovations and the latest products available on the market.
Electric, electric and… electric! Here are the three words that come to mind when thinking about Eurobike 2023. My trip to Germany confirms once again the magnitude of electric products and innovations. One thing is certain; there will be more to come over the next few years and it will just keep getting better and better!
Without further ado, here are my 3 favourite moments from my stay in Germany
    Riese & Müller
Upon my visit at Eurobike in Germany, we had the chance to visit the headquarters of Riese & Müller in Mühltal. The culture and strength of the company's values are what struck me the most. They are the foundation of their innovation and beyond their portfolio of high quality products; Riese & Müller embodies those values, which makes them a driving force in the cycling world. The company attaches great importance to sustainability and environmental responsibility. They are actively looking for ways to reduce their carbon footprint and promote more environmentally friendly modes of travel. This translates into initiatives such as the use of recyclable components and the promotion of the use of bicycles as an alternative to motorized transport. These values and culture that drive Riese & Müller make it much more than just a bicycle manufacturing company. Their commitment to quality, innovation, durability and efficient mobility is reflected in every bike they create.
    Moustache
I was pleasantly surprised by the e-bike company that is Moustache, not only for their innovative technique, but more so by their unique brand image. Their bold and creative approach is translated in their e-bike conception. The latter marries functionality and cutting-edge performance. I was impressed with their hunger for innovation, which incorporates advanced technologies and practical features, while maintaining an elegant aesthetic. Mustache offers a diverse range of models, suitable for different needs and riding styles, that all demonstrates their commitment to providing electric mobility solutions for everyone. Psst… might as well spill the beans and give you the scoop of the year! Moustache will unveil a new collection of e-bikes next year! This ought to be good, so stay tuned!
    Felt
Of course, there is an undeniable e-bike fever; however, Eurobike was not all about that. There is an array of new products for all cycling enthusiasts. To take advantage of Eurobike, Felt presented their new 2024 season models and they all look promising.
The recent acquisition of the bicycle company Felt by Pierer Mobility Group has given a new breath to this iconic brand. Felt, known for its commitment to innovation and performance, has found in Pierer Mobility a strategic partner capable of propelling the brand to new heights. With this acquisition, Felt now has strong financial backing and industry expertise, allowing the brand to explore new opportunities and develop cutting-edge products. This collaboration breathes new life into the Felt brand and offers cycling enthusiasts an expanded range of premium bikes, while preserving the brand's distinctive DNA. Riders can therefore expect new technological advancements, innovative designs and an exceptional riding experience, thanks to this promising union between Felt and Pierer Mobility.
Once again, my stay in Germany during Eurobike was rewarding in many ways. I was able to meet leaders and pioneers of the industry, discover renowned brands, test new models and talk to other cycling enthusiasts. The atmosphere was electric, with a palpable energy dedicated to sustainable mobility while promoting the bicycle as a means of transportation. The new trends, technological advances and innovative ideas that I discovered at the exhibition will be invaluable assets in propelling our family business to new horizons.