Login
Log in if you have an account
Register
Having an account with us will allow you to check out faster in the future, store multiple addresses, view and track your orders in your account, and more.
Create an account
In the spotlight this month, the gravel bike
14 Mar 2022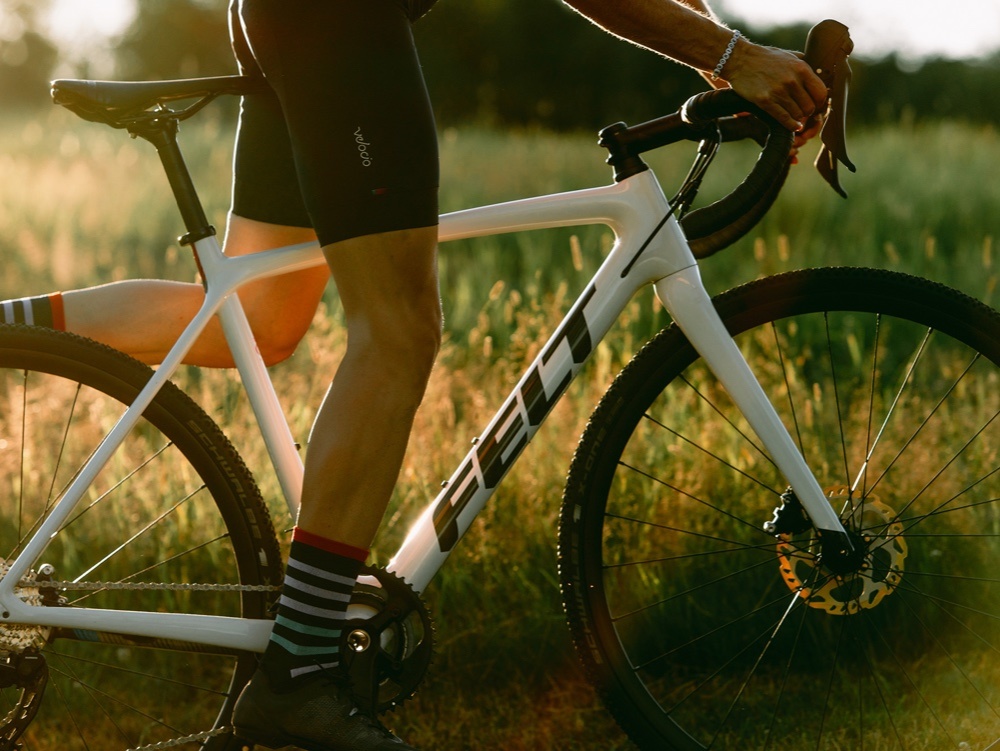 [powr-chat id="773a407e_1647872882"]
The new phenomenon: what you need to know about Gravel biking
Over the past couple of years, interest in the outdoors and exploration has reached new heights. This phenomenon has seen a number of sports practices grow in popularity and it's one of them that we wanted to talk about today: gravel biking. The practice is not new, but the taste for adventure is increasingly important and has earned a place at the forefront of this practice. Indeed, the gravel bike can take you even further and make you go beyond the limits of the road.
Combining performance, comfort and resistance, it facilitates the change of maneuver and calls for more. The gravel bike is versatility incarnated. It gives you more by reducing the need to compromise.
Always in style, especially since the 2018 season, there's something timeless about gravel bikes. Its ability to ride off-road is one of the reasons gravel is winning the hearts of many cyclists. But this one also blurs the lines a bit when it comes to market segmentation. We have a road bike and a mountain bike, but where does a gravel bike fit in? Some cyclists prefer to have a bike that suits their current mood, for others, a bike that meets all their needs is ideal. The gravel is the unique bike for them.
Difference between gravel and cyclocross
Gravel bike, cyclocross... Both are a bit confusing for apprentices as the models look the same. We present you the main lines that differentiate them.
Globally, the gravel bike is the most versatile bike. Situated between the road bike and the mountain bike, it is a wise choice for cyclists who only want one bike that does more. For those who prefer a bike that specializes in each category, it's a great addition to their collection. It's just as malleable on the roads if you're looking for speed as it is if you're looking for adventure and decide to take on twisty roads.
Practical for every ride
For long as well as short rides, the gravel bike is accessible for any rider who likes to go where they want and when they want, without their bike limiting them like a more traditional bike. If you're not looking to buy a new bike, you can even adapt your road bike into a gravel bike.
Technical specs
With its geometry similar to the road bike, the gravel bike allows you to have a more aerodynamic position than the cyclocross bike, although it is more stable thanks to its wider handlebars. Its taller frame and clearance allow you to fit a wider variety of wheels. Finally, its transmission has shorter developments to allow you to ride in rougher terrain.
Specific gear for each bike
You can wear a more casual outfit on your gravel bike. Gravel is first and foremost a lifestyle.
The Cyclocross
As the name suggests, the cyclocross bike is best suited for a full-speed getaway on a suitable track. This type of bike is designed for fans of circuit racing. Mainly associated with performance, it is a great ally for very tight turns, fast acceleration and instant braking. The geometry of this type of bike is designed to provide a more aggressive riding experience and rock-solid agility. It adapts to all kinds of surfaces; from mud to sand, to rocks, and even to snow. The height of the crankset will be higher than other types of bikes and will also have shorter chainstays.
Since a cyclocross race usually lasts between 30 and 90 minutes, you save a lot on the equipment you need to carry with you compared to a road or gravel race. The goal is to be as light as possible, so you don't have to weigh down your environment to get to the finish line at lightning speed. The equipment of choice for this practice? A combination of waterproof clothing that is breathable, yet warm, and that offers the possibility of an anti-stain treatment. Don't forget that a very resistant helmet and shoe covers are essential to practice this sport safely over the long term.
The arrival of the gravel bike in the bike industry has redefined the modern sport, although each bike offers a different road experience.
So try it now!