Login
Log in if you have an account
Register
Having an account with us will allow you to check out faster in the future, store multiple addresses, view and track your orders in your account, and more.
Create an account
What does true performance mean to you?
12 Nov 2020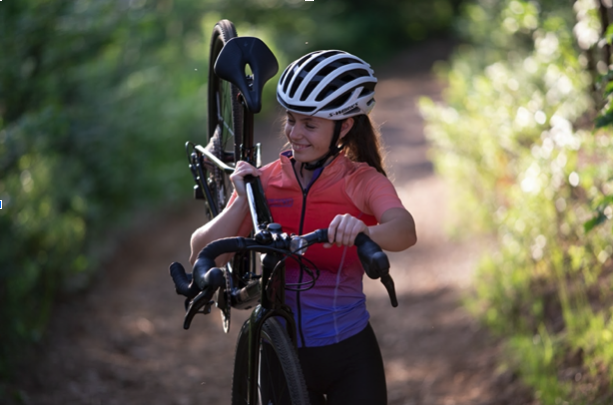 Reaching the first step of the podium. Getting over the last mile of an epic ride. Following the team of fastest. Aren't these all signs of performance? Too often the word performance is associated with high performance sport. Do we tend to forget that performance can be unique to each person, and that it is expressed by the achievement of the objectives that we set for ourselves? Today, I choose to show you my vision of performance.
Set your own goals
August 2019: Finale of the Mardis Cyclistes de Lachine.
3rd in the general classification at this famous series of criteriums in the streets of Lachine. This is what translates into my vision of performance. Why ? At that precise moment, not only have I achieved an important goal on my list, but I also achieved my dream as a 14 year old girl: To finish on the podium of the Mardis Cyclistes de Lachine. 
It is in large part thanks to the Mardi Cyclistes de Lachine that I started to compete as a cyclist. I remember when I was 14, a family friend brought me to see a race one evening. I had stars in my eyes. I wanted to become like these young people and bike as fast as I could around Lasalle Park. When I got to my club's first training session the next month, the first thing I said to the coach was "I want to do the Mardi Cyclistes", and that's what I did! For more than 8 years, every Tuesday my parents accompanied me to the criteriums. I can't say it was easy. At first, I couldn't keep up with the peloton. 1 lap, 2 laps, came back in the peloton. It was difficult, but that's what allowed me to gain my experience. Over the years, I persevered and improved. In 2016, I adapted my goal by finishing 4th. It motivated me to improve even more, I had a real goal and I knew I could reach it. In 2018, I was on the podium for the first time. The emotions I experienced at that exact moment were indescribable. I imagine that as a cyclist you have your own goals! It's up to you to accomplish them!
In 2019, my start to the season was not easy. I had a full-time session at the University of Sherbrooke, which made it hard for me to travel to Montreal every Tuesday. So I started the Lachines' season later, on stage 5. From that moment, I started accumulating points. At the 7th stage, I nearly finished on the podium. At the start of the 10th stage, I am 4th in the general classification, around 100 points behind the 3rd. It won't be easy, but I knew that if I didn't make mistakes, I could grab 3rd place, maybe even 2nd. Eventually, I finished on the podium of the last stage, thus taking 3rd place in the general classification. It is with a big smile on my face, and with a little difficulty that I popped the champagne. People who know me knew that at this point I felt that I was performing.
Does a medal mean you reached performance?
How did I manage to perform in this racing series?
It's not just luck. It's a combination of determination, optimized training, good nutrition and discipline. Performance is not just the end, the podium, the medal... It is rather the whole process that leads to the result! No matter if you are an athlete, you want to get back in shape or you want to complete a challenge; your performance is up to you!